MPO MTP Fiber Cable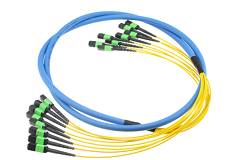 We manufacture and distribute a wide range of MTP/MPO equipment including single mode or multimode MPO/MTP fiber cables, patch panel and cassettes. Multi fiber ferrule connections used in high-density backbones and Printed Circuit Board (PCB) applications in data centers. High density MTP/MPO trunk cables with up to 288 fibers in a single cable. The MPO fiber cable connector offers up to 12 times the density of standard connectors, providing significant space and cost savings. the modular design MPO/MTP fiber cassettes and patch panels are easy to configure and maintenance.
High Density MPO/MTP structured cabling solutions provides you with a simple, yet effective solution, to all your fiber optic cabling needs. The MTP fiber cable can be mass terminated in combinations of 4, 8, 12, 24, 48 fiber ribbon cables. Optional Lengths available. There are different fiber types including OS1, OS2, OM1, OM2, OM3 and OM4.
MPO MTP Fiber Optic Patch Cables
We have MPO/MTP fiber patch cables for single mode and multlimode use. these multlifiber cables can be made to be very high count till 72 cores, they meet IEC 61754-7 and TIA/EIA 604-5 standards and structured cabling made to TIA-568-C. we also have the MPO/MTP fiber cables for 40G/100G etworks. these high speed MPO/MTP cables meet IEEE802.3ba 40G/100G standard and interfaces for 40G QSFP and 100G CXP transceivers.
MPO MTP Trunk Cables
MPO/MTP trunck fiber cables are generally used in backbone links, we have both female type and male type MPO/MTP connectors for the cables. the MPO/MTP trunck fiber cables are available from 12 cores till 144 cores, the cable body can be made with micro core or round cable. our MPO/MTP trunk fiber cables are with single mode 9/125 fiber or multimode 50/125, multimode 62.5/125 fibers. we have optional pulling grips to help with the cable installation.
MPO MTP Harness Cables
MPO/MTP harness fiber cables are used for transmit the light signals from trunk backbone to the optical rack systems, this cable has MPO/MTP on one end, on the other end it is fan out structure fiber cable assemblies with different type of connectors. usually the cables are made with 8, 12 or 24 fibers. Transition connector types for the MPO/MTP harness cables can be made SC,ST,FC,LC,MTRJ, E2000,etc. the MPO/MTP harness fiber cables are with optional length and fiber types as well as jacket materials for your choice. we have rugged MPO/MTP harness fiber cable assemblies too.
MPO MTP Hydra Cables
MPO/MTP hydra cables are mainly used in cassette modules, usually the hydra MPO/MTP fiber cables are made with 0.9mm diameter, one end of the cable is 8, 12 or 24 core MPO/MTP, the other end is terminated with different connectors such as SC,LC,ST,FC,E2000. the cable is with 12 color coding to identify them. we have the MPO/MTP hydra cables single mode and multimode versions, in OS1,OS2, OM1, OM2,OM3 and OM4 versions.
MPO MTP Fiber Optic Patch Panel
The MTP-MPO fiber optic patch panels are with highly compact and modular design, which makes it easy to configure, add, remove or change the setting. it is used with the modular MTP-MPO fiber optic cassete. the cassete can be with different types of single mode and multimode fiber optic adapters types to link with your system. availble from 1U,2U,4U and 19" rack mount, the MTP-MPO fiber patch panel help make it easier to handle your cable management needs.
MPO MTP Cassette
the MPO/MPO fiber optic cassette are used alone or integrated into our MPO/MTP fiber optic patch panels. these cassettes are plug and play, easy to configure and convenient for maintenance. they are with pre-installed MPO/MTP fiber cables and adapters, the strong casing help pr