MTRJ Fiber Optic Adapter,MTRJ Fiber Optic Adapters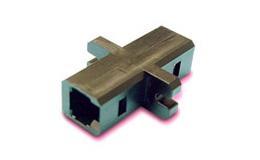 MTRJ fiber optic adapters are used with MTRJ connectors, this is a born duplex fiber optic connector that is ideal to use in FTTx applications. The MT-RJ connectors comply with IEC 61 754-18, ISO/IEC 11801, EN 50377-9-1, EN 50377-9-2, TIA/EIA 604-12 standards.

MTRJ fiber optic adapter fit the connector features a mini twin zip cord construction or a 3 mm cable with a mini ribbon fiber inside. It has excellent performance and technical characteristics. MTRJ is another widely used small form fiber optic components except for the LC type. We supply the MTRJ fiber optic adapters, connectors and MTRJ patch cables in single mode and multimode versions.