SC Fiber Optic Adapter,SC Fiber Optic Adapters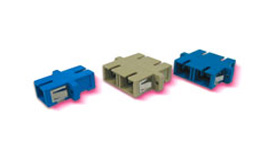 SC fiber optic adapters supplied by comsouthern.com are simplex and duplex styles, in single mode and multimode versions. Single mode APC SC fiber adapters are also available. As one of the most economic and reliable performance fiber optic connection types, SC fiber optic components are widely used in CATV, LAN, WAN and test fields.

comsouthern.com SC fiber optic adapters are compliant to IEC definition for fiber optic interfaces SC family and TIA/EIA 604-3-A fiber optic intermateability standards for SC. Our SC fiber optic adapters use premium zirconia sleeves in plastic housing, body colors are as per industrial standards, SC single mode UPC adapter as blue, SC single mode APC adapter as green and SC multimode UPC adapter as beige. Each type has simplex and duplex versions.