SC Fiber Optic Loopback Connector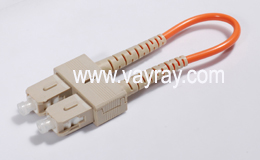 We supply SC fiber optic loopback connectors for test applications. These products are single mode type and multimode types, they are with custom cable length and cable outer diameter. Typical SC fiber optic loopback connector is with PC polished ferrules.

The Subscription Channel (SC) Connector is known for its locking mechanism which gives an audible click when pushed in or pulled out. This push-pull design prevents rotational misalignment. SC is one of the most widely fiber optic connectors today, not only because of the good performance but its low cost. We supply the fiber optic loopback connectors with good price and prompt delivery.