10Gigabit OM3 Fiber Optic Patch Cable Cord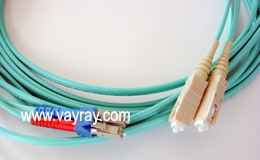 We supply OM3 10G fiber optic patch cables which are used for 10Gigabit Ethernet applications. These cables are also called multimode OM3 10G Aqua fiber optic cables. Our OM3 10G cables are various types including different connector types, cable structure and cable length.

Big quantity information is generated every day on the internet and people need to exchange more and more information which in turn result in the demand of more and more bandwidth. IEEE802.3ae defined the 10Gigabit Ethernet standards used in LANs. OM3 10G multimode fiber optic cables are developed for such 10Gig Ethernet applications, they are with so called OM3 optical fiber, which is 50/125 type and with industrial acknowledged Aqua color. OM3 10G fiber enable low cost 10g fiber optic communications over multimode fiber for as long as 500 meters or so.

We also supply outdoor 10Gig multimode fiber optic cables with various optional structures. Our OM3 10G fiber optic cables are manufactured according to industrial standards and they feature the good price and reliable quality.