Custom Multi Fiber Optic Cable Assemblies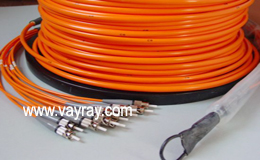 We are manufacturer of custom fiber optic cable assemblies. Our custom fiber optic cables include not only the simplex and duplex types but the multi fiber cable assemblies which combine the function and ability of several individual cables into one single and convenient to use cable.

Typical custom multi fiber optic cable assemblies are with the 1XN or NXN structure. The cable overall length and breakout part length are definable; cable jacket can be Plenum, Rizer or RoHS compliant. Cable connectors are SC, LC, ST, FC, MU, MTRJ, E2000, etc optional. Optical fiber used can be single mode 9/125, multimode 50/125 or multimode 62.5/125, with OM3 laser optimized cables available. We supply optional pulling eyes to use with the multi fiber optic patch cables. All our custom fiber cable assemblies are fast delivery and good prices.